Masan Resources (HSX: MSN) Offers Four Products at Nui Phao – World's Largest Tungsten Producing Mine Located in Vietnam
By Allen Alper Jr.
on 11/11/2015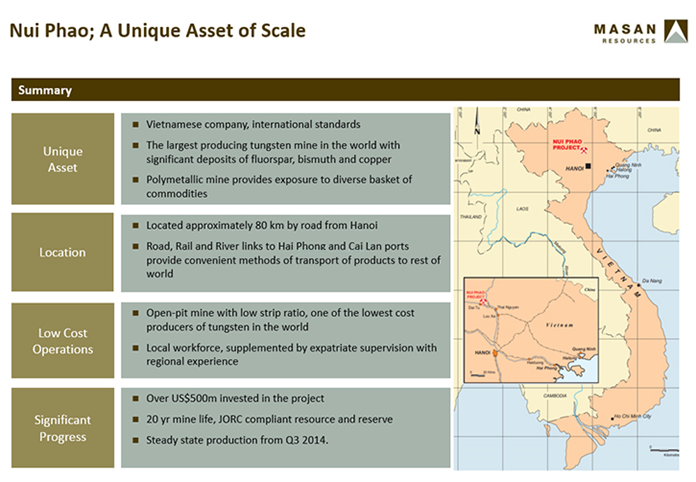 Dominic Heaton, CEO of Masan Resources (HNX: MSR) took time to chat with Metals News about the progress they have made at the Nui Phao tungsten mine located in Vietnam. Said Heaton, "In terms of my own background, I got into the mining industry by working for a Canadian company back in Papua New Guinea. I was there for a number of years before I transferred down to another operation in Queensland, Australia."
Heaton has not always worked in tungsten. He said, "That was a gold project, in total I was with that company for about six years. I then joined an Australian junior gold and silver producer that had a mine in Indonesia. I worked there for about eight years before moving on to join another Australian junior in Lao PDR to develop another mine. We first built a gold project, and then a copper project right next to the gold project. I was with that company until the financial crisis of 2008 when it was bought out by China Minmetals and then that company became MMG. I worked for them for another two years before I took on this role in Vietnam heading up Masan Resources."
Currently, the focus of the company is on the Nui Phao project. Said Heaton, "The Nui Phao project is the engine of Masan Resources. It was first discovered by a Canadian junior who progressed it through a feasibility study and a 43-101 compliant resource. By the end of 2004, they had started the project engineering and permitting. They were progressing with that in 2005 and 2006 and then they decided that they were perhaps not the best group to be developing the project. They sold the project to a local private equity group, who were looking to take a stake in most of the mining projects in Vietnam at that time."
The private equity group wasn't able to take the project to production. Said Heaton, "That company then went ahead with some of the project engineering and equipment procurement, but ran out of money in 2008 and they weren't able to complete the fund raising necessary for the project. So the project went on to care and maintenance, until Masan Group acquired the project in 2010."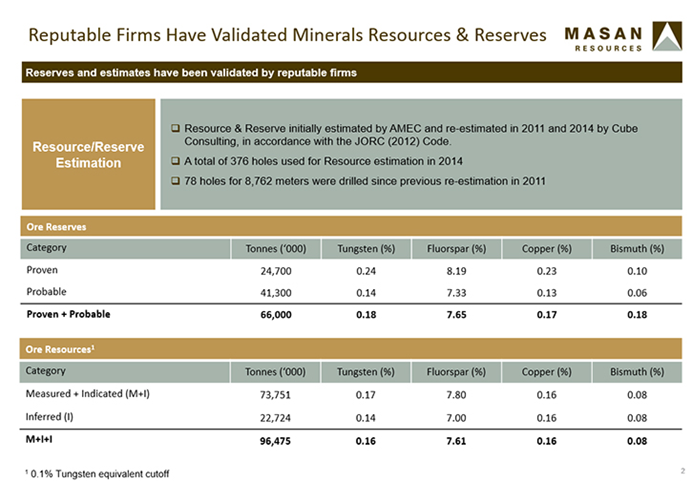 At that point, Masan brought in Heaton to lead the project. He said, "Masan put into place the funding for the project, and brought myself in, as they didn't have any resource industry experience. Together we rebuilt the team and recommenced the community relations and the resettlement program. The permitting was completed. We got the design squared away and started the construction in mid-2011. Construction continued into the first quarter of 2013 when we commenced the main plant and by the end of the third quarter of 2014, we had production running steady state. We are now ticking along. In terms of what we have been able to achieve, Nui Phao is the world's largest tungsten mine on a production basis. We are mining 3.5 million tons of ore per year. We have a JORC compliant resource with a total resource of 99 million tons and an ore reserve of about 66 million tons."
What makes the Nui Phao project unique is that we offer several products.
Said Heaton, "Unlike many tungsten mines, we have four main products; tungsten and fluorspar concentrate, which is about 75% of our revenue. We also produce copper and bismuth. The tungsten concentrate goes into our joint venture with H.C. Stark where we own 51%. From that plant we produce tungsten chemical that are sold into the market. The JV also has an offtake in place with H. C. Starck. It is one of their key raw material supplies."
"2015 has been a great period for us." Said Heaton: "After a commissioning and ramp up we achieved steady state operations in Q4 2014, so the focus in 2015 was to set the platform for further growth.
We have been consolidating our business by completing the refinancing of our US$ 360 million bond in August, completed our listing in the middle of September, and co-hosted the International Tungsten Industry Association (ITIA) AGM with approximately 220 delegates in late September. "
Why the refinancing? Said Heaton:
"With the way the financial markets have evolved this year we worked with local institutions and refinanced our debt to capture a better interest rate, and provide some additional working capital, locking in some savings that were available."


Why the listing? Said Heaton:
"In the week prior to the ITIA we completed our local listing on Hanoi UPCoM (HNX:MSR) which was a commitment we had made to our shareholders from back in 2010 when Masan first acquired the project. The float was <4% as we are primarily seeking to deliver on our stated commitments, provide a vehicle for investors seeking exposure in a significant player in the global tungsten industry, as well as provide greater transparency for shareholders in our parent company Masan Group (HOSE: MSN)."
This year's ITIA AGM? Said Heaton:
The International Tungsten Industry (ITIA) Annual General Meeting was held here, in Vietnam, for the first time. There were about 220 delegates from 130 companies here. We took 120 of the delegates out to our mine site which is about two hours north of Hanoi. The numbers were off about 5% from last year, which was better than what was expected. The mood was fairly subdued, but it was still good attendance for this conference."
"From our perspective as co-hosts and presenters, the whole ITIA AGM and site visit went very well.
The ITIA AGM was important for Masan Resources for 4 reasons;
Masan Resources was elevated from the membership onto the ITIA Executive Board, where I am looking forward to helping further promote the development of the global Tungsten Industry,

I presented how Masan Resources is seeking to transform the global tungsten market,

We demonstrated the effectiveness of our execution approach when we took 120 ITIA delegates through to our Nui Phao Mine, the world's largest tungsten mine.

We showcased Vietnam as an excellent business destination in today's global economy."

How important is Masan Resources, and Vietnam, to the Tungsten market?

Heaton said, "Vietnam, by virtue of the Nui Phao, is now the second largest supplier of tungsten into the global market. The Nui Phao Tungsten Mine is the largest tungsten mine in the world, achieving that record at the end of 2014. With JORC compliant Mine Reserves of over 66 million tonnes @0.18% WO3, it expects to be able to remain in this position for much of its forecast 20 year life. "

What has been the impact of falling prices?

Heaton said, "Yes, prices have been decreasing for the last 18 months, and while there is some slowdown in the rate of price decrease there appears to be sufficient supply to meet demand. At current levels, based on our estimates, there are a lot of producers who should be losing money, and this is only slowly resulting in mine closures or producers going onto care and maintenance. We expect more high-cost production will be taken offline in the next few quarters.

Ensuring profitability at all stages of the commodity cycle is a key issue for all primary producers, including Masan Resources. At MSR we have focused on this from the time we acquired the Nui Phao project back in 2010. We have trained our teams to be disciplined in their application of our financial resources from start-up and through into our Operations today with Management led Margin Improvement Plans (we call them MIP's) that look at maximizing top line, driving costs out of the business in a sustainable way, so as not to hurt final product quality, and ensuring we capture the bottom line result to deliver shareholder value.

We also benefit from having 4 sellable products that we recover from the ore body, which gives us an advantage over many of our competitor mines in that we have commercially significant and recoverable quantities of fluorspar, bismuth and copper. As a result of all of these attributes our Nui Phao project is in the bottom quartile of all tungsten producers in the world, and our Management team will maintain their focus to ensure we stay competitive throughout the tungsten price cycle."

So what is next for Masan Resources?

Heaton said, "Our approach is to take advantage of the current industry downturn to ensure we remain well positioned for when prices do turn to ensure we can capture the upside, and maximize value creation.

In terms of business development, and growing MSR, we have the ability to grow our resource and reserve base further at Nui Phao. This will ensure our engine for growth remains in place for many years. Recently we have started reviewing some existing tungsten businesses, and other projects to identify opportunities that we feel we can bring value to, or deliver with our team; or in conjunction with the potential target management see if we can align corporately. This process has really only just begun and while we have reviewed a few potential projects, we think that with the current tough market that this may also assist in opening doors to industry consolidation, and beneficial partnerships.

MSR aims to be the Tungsten industry partner of choice. We are ready to act when the timing is right."

Like all companies in this industry, Masan Resource is seeing challenges. Heaton said, "Our biggest challenges at the moment are our efficiencies. We are in the bottom quartile of tungsten and want to stay there. We have some exercises we are running, and we are making sure that we improve our operating costs as much as possible. We are training up our employees so that we are prepared for the next stages of our business, if we decide we want to take advantage of the weak economy to build our business. We are training them for other jobs in other businesses we may take on in Vietnam or overseas."

Masan Resources is owned by a parent company. Heaton said, "Masan Group is our parent company. They have three main areas of business, in addition to Masan Resources, including Masan Consumer; mainly food and beverage, including coffee, noodles and fish sauces. That was the original business which has expanded over the years. Group also has a strategic shareholding in one of Vietnam's largest domestic banks, Techcommbank. Group's latest venture is Masan Nutriscience, which is focused on growing the billion dollar animal feed sector here in Vietnam. It is listed on the Ho Chi Min exchange as MSN. Currently, MSN is trading at the local equivalent of just over three US dollars a share.

Heaton and his team are looking for tungsten prices to increase. He said, "As prices return, we should be able to leverage quite well. Equally, given that we are not a single product company, we have four products that we get from the ore body. That gives us a distinct competitive advantage."

Website: http://www.masangroup.com

Rep Office: Level 15, Hoa Binh international building,
106 Hoang Quoc Viet St., Cau Giay Dist., Hanoi, Viet Nam
Tel : (84-4) 3718 2490
Fax: (84-4) 3718 2491

For investor, please contact:
tanveer@msn.masangroup.com

(Nguồn: Metalsnews.com)